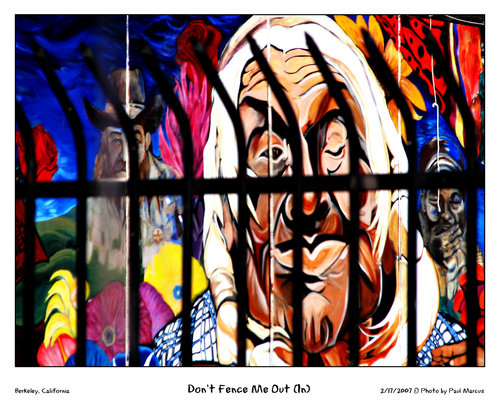 Street mural and fence on Telegraph Avenue, one of the world's better-known streets.

Title ending inspired by the lines from ...

Revolution 1 (Lennon/McCartney)

You say you want a revolution
Well you know
we all want to change the world
You tell me that it's evolution
Well you know
We all want to change the world
But when you talk about destruction
Don't you know you can count me out (in)*
Don't you know it's gonna be alright
Alright Alright ...

*In the reprise of Verse 1 John adds a low-key word "in" after the more normally-voiced word "out" as was sung the first time.

This photograph originally appeared in the Street Photography Challenge.
Don't Fence Me Out (In)

by Paul Marcus

Available in 3 sizes ($4.00 - $64.00)



More Prints by Artist
Add This Print to Your Wishlist